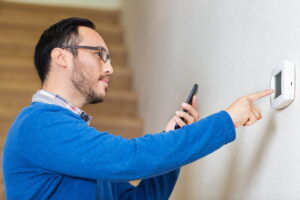 You feel pretty confident after getting your heating system or air conditioner replaced a few years ago, that you've bought yourself some time before you need to make a big purchase for your home comfort. Congratulations! That's got to be a great feeling, and we commend you for being so proactive towards home comfort. The majority of homeowners don't think like that, and we need to give credit where it's due!
However, there's one more thing to consider aside from your heating in Glendale, CA. We're talking about the control of your heating. The thermostat system in your home is what you use to communicate with your heater.
As you look at your old analog thermostat that's lied dusty and quiet for 40 or 50 years, we want you to start thinking about the technological advancements we've made since then. Getting a new thermostat could be a huge improvement for your home, and here's why.