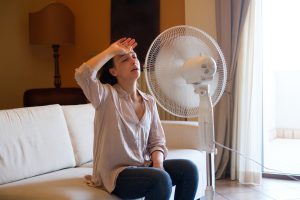 What's worse, heat or humidity? That's a tough question since we're constantly associating the sweat and discomfort of summer with the heat from the sun. However, we'd argue humidity is the real villain of the summertime weather. The muggy weather of summertime is responsible for us feeling sticky, sweaty, uncomfortable, and hotter than average. So, it's important to combat this humidity with an effective dehumidifier.
Many homeowners think they need to choose between a dehumidifier and an air conditioner. Some homeowners even think that they do the same job, and that purchasing a dehumidifier is redundant. That couldn't be further from the truth!
Dehumidifiers are tools that contribute to comfortable homes. They can work together with your air conditioner to provide dry, cool homes when we want them. Take it from us, the experts on all things indoor air quality systems. Keep reading as we discuss the details of dehumidification.