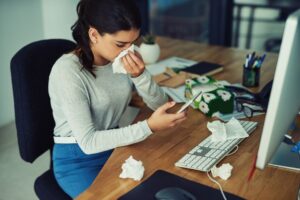 This might seem like a random question to ask a homeowner, but with the importance of safety and air quality rising in priority, we think it needs to be asked. Whether you're an expert in indoor air quality technology, or you're just a homeowner looking for a way to keep your home safe and secure, this is a blog post all about air purification.
The information about not only what is in our air, but also how to filter and eliminate these contaminants should be more widely available than it is. After all, homeowners often don't know the specifics of what could be plaguing their indoor air, or why an air purifier in Santa Clarita, CA is a great purchase for the future.
Is an air purifier perfect for your home? Or perhaps you're more in need of an air filter, or some other kind of indoor air quality system? Don't worry, this blog post will discuss exactly what these systems do and point you in the right direction!
How Does a UV Air Purifier Work?
Let's start by talking about two types of air purifiers we install. Both of these are extremely effective at eliminating the contaminants listed below.
UV air purifiers. One of the simplest and most effective methods of cleaning your indoor air is with a UV light. Ultraviolet light produces low-level radiation that is extremely harmful to single-celled organisms like viruses and bacteria. It's harmless to human beings and it's installed directly in your air ducts so you don't even come in contact with it.
Air Scrubbers. Air Scrubbers produce oxygen and hydrogen molecules in the atmosphere that scrub biological contaminants clean. An Air Scrubber can also produce a pleasant scent as it eliminates odor-permeating contaminants and cleans the air.
3 Contaminants an Air Purifier Protects You From
Here are just three major contaminants that an air purifier will help you get rid of. If any of these have been plaguing your home, then we advise you to invest in one of the two systems we mentioned above.
Bacteria. Bacteria is all around us, and without the right treatment, they can infect our bodies and cause us to stay sick for long periods of time.
Viruses. Viruses like Influenza and COVID-19 can spread through airborne contaminants. Air purifiers like UV germicidal lights eliminate the particles as they pass through your air ducts.
Mold spores. Mold reproduces through spores that are permeated through the environment. An air purifier can easily eliminate mold spores so they don't make us sick or contribute to mold growth elsewhere.
Get It Set Up the Right Way
There are a lot of air purifiers out there, each manufactured by a different brand. How are you supposed to know which ones actually work like they say they will, and which ones are just cheap knock-off models that just produce a nice scent? We can help differentiate the good from the bad.
We only work with powerful and efficient air purifier systems from brands that we trust. We can install a UV air purifier that's designed to eliminate contaminants using ultraviolet light, or we can even install a whole-home solution like an Air Scrubber by Aerus. Our products are safe, effective, and built to last!
Call JMS Air Conditioning and Heating today for proper indoor air quality services!