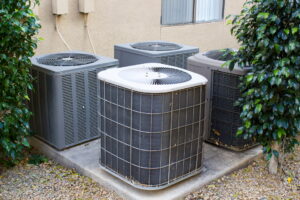 Your air conditioner has several moving parts and components that work together to provide you with excellent cooling. As long as the air conditioner is working properly, most homeowners don't bother to check for repairs or routine maintenance needs.
As the temperatures begin to go higher and higher, your air conditioner will need to work overtime to make sure that your home is cool and comfortable. It will be crucial to ensure that your air conditioner is in optimal working condition so that you do not have to put up with unbearable temperatures indoors.
Neglecting your air conditioning in Santa Clarita, CA, especially when it is struggling, can result in the unit breaking down. We will tell you some of the most significant AC repairs you should keep an eye out for to know when you should schedule repairs.
3 Major AC Repairs to Watch For
Here are the three most common repairs you might have to deal with. Please do not ignore your air conditioner if it is struggling with these problems; instead, schedule professional AC repair services immediately.
Refrigerant leaks
Have you noticed any strange bubbling or hissing sounds coming from your air conditioner? Is your air conditioner not cooling your home properly? It could be a sign that there is a refrigerant leak. Refrigerant leaks can lead to several problems for your air conditioner. Ignoring the problem and letting it run on low refrigerant can eventually lead to a complete system breakdown.
Short-cycling
Is your air conditioner repeatedly turning on and off without properly cooling your home? This is called short-cycling, and it is a common AC repair that you need to watch out for. Short cycling is when your AC runs frequent, cooling short cycles that put a lot of strain on your air conditioner. Letting it run like this will lead to more expensive repairs and much higher energy bills.
Electrical problems
An air conditioner requires a significant amount of energy to run. However, if your air conditioner is drawing too much power, it can trip the circuit breaker in your home. The circuit breaker trips to protect your home from electrical problems when there is too much of a current flowing through it. If your air conditioner is causing electrical problems in your household, you should not try to keep turning it on by resetting the circuit breaker. Instead, you should call professionals to examine your air conditioner and repair it so that you can avoid further problems down the road.
Call Our Team of Professionals Today
If your air conditioner is struggling to keep your home cool, is short cycling, has a refrigerant leak, or has any other problems, it would be wise not to ignore the problems. You should get in touch with professionals who can come to repair your air conditioner before it completely breaks down. The trained technicians at JMS Air Conditioning and Heating are here to help get your system working properly again.
Call the pros at JMS Air Conditioning and Heating to have them dealt with ASAP.