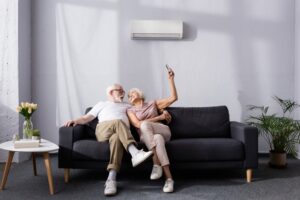 When it's time to invest in a new air conditioner for your home, you may be tempted to stick with the standard whole-house central air conditioner. But many homeowners are switching to ductless mini split air conditioning because of the unique benefits. If it's time for air conditioning service or air conditioning installation, you want to give our team a call.
We're the experts in the area, and we get the job done right the first time. Our technicians can offer an in-home assessment to talk to you about how a ductless mini split unit would work in your home. Keep reading to learn more about why you might want to make the change from your current central air conditioner and switch to a mini split instead.
What is a Ductless Mini Split?
Maybe you have heard of a ductless mini split air conditioning and heating system. (That's right, these systems provide both heating and cooling.) But do you really know how it works? A mini split is different from a standard central air conditioner because it does not connect to any ductwork. Instead, you have miniature air handlers attached to the wall along the ceiling in each room of your home. 
This unit is responsible for providing temperature control to a single designated space. Of course, these units can work together to control the temperature across your entire home. But they can also offer the customization of different temperatures in each room of your home as long as you keep the doors closed and areas separate. 
Energy Efficiency
A ductless mini split air conditioner is considered nearly 100% energy efficient. This is because all of the cold air produced blows directly into the rooms of your home. It does not have to be channeled through a network of ducts where it has the potential to get trapped or escape through holes.
After all, even with airtight ductwork in your attic or basement, some of the cool air does get trapped and stays in the ducts instead of blowing out into your home. Since a ductless mini split blows directly into your home, you can dramatically decrease the cost of cooling your home.
Potential Downsides
The cost is the one place many homeowners get stuck when considering a ductless mini split. These units are more expensive compared to a more standard central air conditioner. However, when you consider the potential energy savings over the life of the unit, you can recoup the additional costs, plus save even more on top of that. 
Another consideration is that a ductless mini split does have higher maintenance expectations. You complete similar maintenance tasks that you would for a central air conditioner. However, instead of changing the air filter on a single unit, you are cleaning air filters for as many units as you have in your home.
JMS Air Conditioning and Heating has your back. Call us today to schedule an appointment for air conditioning service!