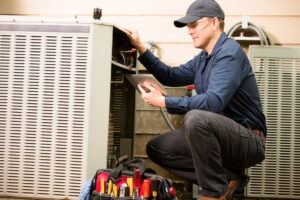 Is there ever a time when it's too late to schedule AC maintenance? Unless your AC is completely broken down and not working at all, AC maintenance is still a viable option. If your AC stopped working completely, then you need to give us a call for a repair job instead.
Our team is the experts at air conditioning service in Glendale, CA. We can help you with all of your AC problems, big or small. You can keep reading to learn more about the signs of AC problems so that you can call us sooner rather than later. 
Signs of AC Problems
The best way to stay ahead of AC problems is to know how to identify them in the first place. One of the easiest ways to know that your AC is on the fritz is by listening for unusual sounds.
Your air conditioner will make a series of completely normal sounds during daily operation. However, the sound should fade into the background as white noise in your home. If you hear anything that becomes a persistent or alarming noise, it's definitely time to give our team a call.
You also want to check the airflow coming out of the vents around your home. When you hold your hand up to an air vent while your AC is in cooling mode, you should feel a strong stream of cold air coming out. If the air is lukewarm, or the airflow is weak, that's a sign that your AC has something wrong.
If your home is still comfortable, you may be tempted to ignore this early sign of AC problems. However, maintaining something while it is small costs far less than making a repair later on when the system breaks down completely. 
You can also take a look at your energy bills. Have you noticed a sudden spike in energy use lately, or maybe a steady upward trend that doesn't fluctuate? Either one of these is a sign that your air conditioner is losing efficiency for some reason. You don't have to accept high energy bills. Instead, invest in AC maintenance and win back some of your air conditioner's energy efficiency. 
Benefits of Maintenance
When your air conditioner is more efficient, you have two distinct benefits. The first one is that your air conditioner costs less to operate. This means cheaper energy bills each month. But, lessening the wear and tear on your unit is also a great way to extend its life. The longer your air conditioner lasts, the more you're getting out of that investment.
You also enjoy the benefit of avoiding surprise breakdowns. When you invest in annual maintenance, our team can fix small problems before they become big ones. You may not even realize anything is wrong with your air conditioner yet when we fix it–and that's a good thing. Most homeowners would agree that they would rather schedule AC maintenance on their schedule rather than face an emergency repair appointment at an inconvenient time because their air conditioner stopped working completely. 
Considering a Replacement
Unfortunately, there are some times that you have to consider a replacement. If your AC is in particularly bad shape or highly inefficient, you may benefit from putting potential repair dollars toward a new, more efficient air conditioner. Plus, once you understand how to maintain your air conditioner properly, you can do it right from day one and get the most out of your air conditioner across its entire lifespan.
JMS Air Conditioning and Heating has your back. Call us today to schedule an appointment for an AC tune-up in Glendale, CA!